Back
Live Game Board reaches prototype state
We would like to announce first prototype version of the board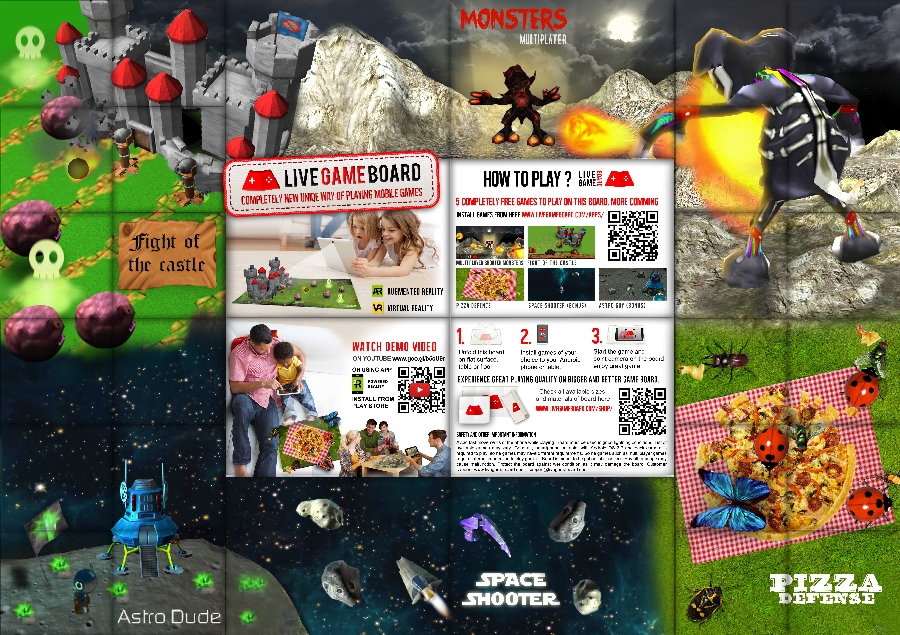 The prototype version is coming out with first version of Monsters multiplayer game designed for the board by Live Game Board team.
This game demonstrates augmented reality playing with variety of control modes.
Game comes in multiplayer which emphasises this way of playing games.
"When we play the game with friends it makes it feel like it is all happening in front of you. All game is laying down on the floor, you even want to touch these monsters..." Stan Kuhn, founder.
The board is estimated to reach first production version in early August. By this time there will be available at least 5 free games to play on the board. Stay in touch to keep updated.
Download the board here
http://www.livegameboard.com/shop/
Download the Monsters game here.
http://www.livegameboard.com/apps/
Enjoy!
Here is also short video of latest Monsters game

Live Game Board aims to bring totally new experience of playing mobile games directly in your living room.
The board is physical printed big size poster or canvas acting as a game board. Not only it will give you great quality in playing Augmented reality games, Live Game Board is also a publishing platform for game developers, therefore by supporting them we will bring plenty of games for you to play on one single board.